Beginner Guide | Sexy Lingerie | Horny.SG
Beginner's Guide To Buying Sexy Lingerie

Lingerie is touted as a secret weapon in the art of seduction for women. Whether you prefer sexy structured corsets and garters, or the softer feminine styles of babydolls and chemises, there's always the right lingerie to make anyone feel beautiful and empowered.
Some may feel like sexy lingerie can be an unnecessary addition to a wardrobe – after all it probably won't stay on your body for too long if it's doing its job right! However, like the notable burlesque artist Dita von Teese remarked, "Lingerie is not about seducing men, it's about embracing womanhood."
Wearing beautiful lingerie underneath your everyday outfit can feel like a secret that only you and whoever's lucky enough to end up seeing it will know. What makes lingerie seductive isn't just what it reveals, but what it conceals and adds mystery to. Stockings are a great example of pieces that add the illusion of longer legs and tempt your partner to look forward to peeling them off. With so many styles out there, lingerie is also a fun and playful way for you to experiment with different moods and looks when it comes to keeping the sparks alive in a relationship.
However if you feel like lingerie should only be worn when you have a partner, you're missing out! Even if you're happily single, wearing sexy lingerie for yourself is an act of self-love that can boost your confidence even outside the bedroom. Not only does it add a thrill to your normal routine, having the feel of satin and lace against your body can be a luxurious experience for your senses. Plus, you'll never know when a harmless flirtation in the day can take you to by the end of the night…
So if you're ready to invest in a beautiful addition to your wardrobe, here are 5 factors you should consider when choosing and buying lingerie.
1. Lingerie Style
When it comes to lingerie, style can refer to two different definitions. The first definition refers to the actual cut and form of the lingerie piece.
Lingerie comes in both structured and non-structured styles. As the name suggests, structured lingerie refers to pieces that are body-sculpting and fitted to your form closely. These include corsets, basques, teddies and bra sets. Bras and corsets can also be underwired or padded to push up your cleavage.
Non-structured lingerie are garments that are usually looser, body-skimming and comfortable. They are often designed in soft and feminine styles that do not provide much support to the bust. These include babydolls, camisoles and chemises.
Another type of lingerie that serves as a complementary accessory is hosiery. Stockings will always add allure and complete the full look to a lingerie set. To add the finishing touch, wear garter belts with clips to hold up your thigh high stockings. Some lingerie sets also come with their own attached stockings and garter belts. Want to kick it up a notch? Bodystockings, as the name suggests, are stockings that stretch all the way up to the neckline. They can be used underneath a regular outfit to make a statement or worn on its own. Most bodystockings styles are crotchless for convenience!
Feeling adventurous? Spice things up in the bedroom with roleplay! Costumes aren't just reserved for Halloween, you can choose to be a different character at any time of the year with cosplay outfits. Be a naughty nurse for a day, and sexy schoolgirl the next with costumes to reflect your desires and fantasies. Just want to be a more seductive version of yourself? Dress up in a sizzling cheongsam or a sexy kimono robe to turn up the heat!
2.Features To Accentuate (or Hide!)
If you are a work of art, then lingerie is simply about the best frame to showcase it. To choose the right lingerie for you, decide on the feature you'll like to accentuate most. If your favourite body part is your cleavage, then pick structured pieces like a corset that can emphasize the hourglass shape and push up your breasts even more. If you want your partner to trail kisses on your neck, then look for halter neck teddies that put a spotlight on your shoulders.
If your partner loves your sexy back, check out backless chemises or camisoles with criss-cross straps. Is he a fan of your booty instead? Look for cage panties that have cut-outs to frame the bum and allow for easy access to play as well. Do you have legs that go on forever? Take your pick from thigh-high stockings with a matching garter belt or go all the way with a fishnet bodystocking to emphasize the sleek illusion from head-to-toe.
While lingerie means there's less garment to hide behind, it doesn't mean that you can't pick the most flattering style for the body parts you're not as fond of. For example if you're insecure about your stomach, then flowy babydolls that are more voluminous in shape can help to conceal your belly while still looking sexy. At the end of the day, it's about picking the style that works best for your body that's still comfortable and fits your personality too.
3. Material
Since lingerie is literally the closest thing to your skin, the material that it's made from is a key factor when it comes to buying lingerie. Forget your everyday cottons, sexy lingerie is meant for indulging your senses with luxurious fabrics like silks, satin, lace and chiffon. It's also a time when you get to play up to your different moods! If you're feeling strong and tough, keep it edgy and sexy with fishnets, body chains and harnesses. For a flirty and feminine mood, you can never go wrong with lace, chiffon and silk. Basically you'll want to pick lingerie in materials that your partner won't resist keeping his hands off you!
4. Fit
Just like your outerwear, the right fit can make the difference in your overall look and comfort. Ever wondered what the mix of numbers and letters in your bra size really means? The numbers represent your band size, which is the measurement around your rib cage right below your breasts. Most of the support actually comes from the band which is why it's important to get the correct measurements. The cup size is represented by the letters, with the smallest size starting from AA and can go all the way up to J.
Take note that your usual size can change as your body changes through pregnancy, weight loss or gain so it's recommended to go for a bra fitting as there might be variations in styles and sizes. Otherwise, you can also measure yourself easily using the steps below:
1.Measuring Your Band Size:
With a measuring tape and while wearing no bra or a non-padded one, wrap it snugly across your back to measure the rib cage right under your breasts. Ensure that the tape is parallel to the ground and round to the nearest whole number. If your number is even, add four inches to it. If the numbers is odd, add five inches. This final number will be your band size. (e.g. If your initial measurement is 30in, the band size will be 34. If it was 31in, the band size will be 36.)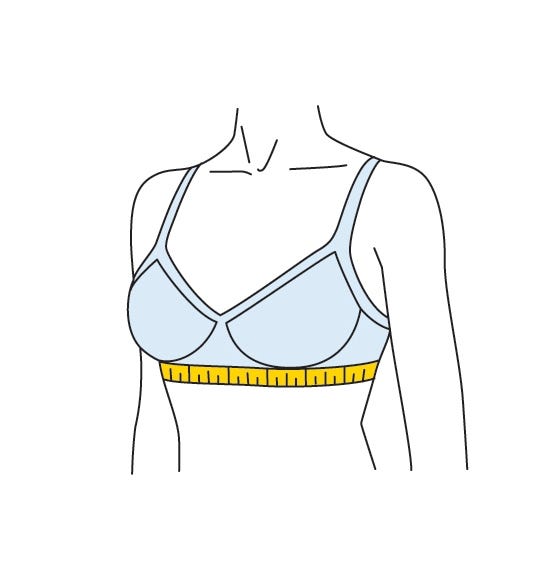 2. Measuring your Cup Size:
To get your cup size, you'll have to measure your bust. Use the measuring tape and wrap it more loosely around your breasts at the fullest part (e.g. around the nipple level). Round it to the nearest whole number. Then use this number and subtract it with the previous calculated band size. Refer to the table below to get your bra cup size. Then your final bra size is the band size with the cup size. (e.g. If your bust is 38in and your band size is 34, then the difference is 4 inches which according to the table, your final bra size is 34D)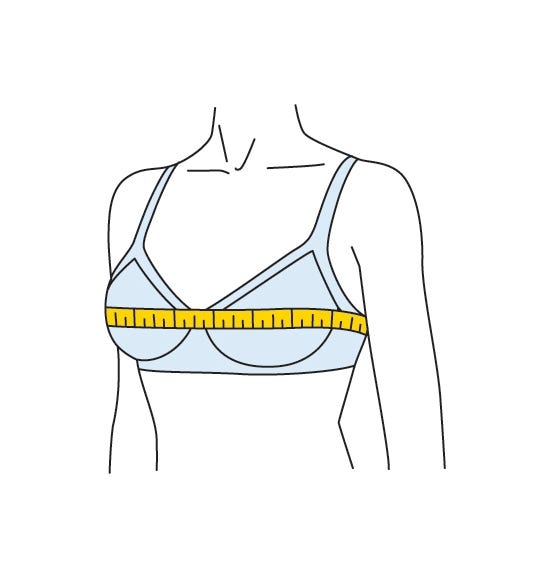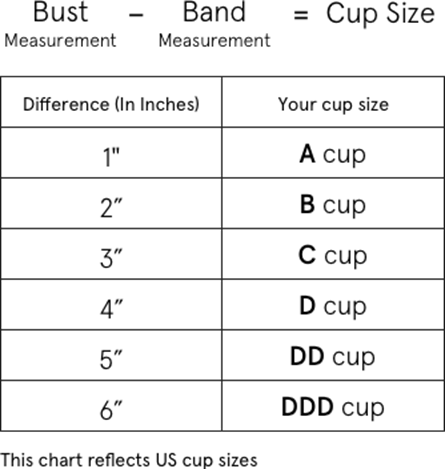 5. Budget
So you know what type of style and materials you prefer and your size, it's time to shop! The great thing about lingerie is that you can find a wide range to match everyone's budget especially here at Horny.sg. If you're just starting your lingerie collection, you may want to consider a matching camisole set or a long babydoll that can also double up as sleepwear. If you're looking to spice things up in the bedroom, you can go all the way out with a sexy bra set, garter belt, stockings and coordinating silk robe without breaking the bank!
How to take care of lingerie
Congratulations, you're now the proud owner of beautiful lingerie! To ensure your collection stays in good condition so you can enjoy them for a long time to come, here is a general guideline to lingerie care and maintenance.
Hand wash your lingerie with cool water and a mild soap
Light and dark lingerie should be washed separately to prevent color staining
Do not tumble dry lingerie. Wrap the lingerie with a dry towel and gently pat to remove moisture. Then hang to air dry.
Do not squeeze or rub the fabric when drying lingerie to keep its shape.
If you do not have time to hand wash, you can use a special lingerie protective pouch that allows you to put your lingerie into the washing machine. Be sure to use the gentle cycle in warm water.
Store your lingerie in a cool, dry place and avoid long periods of sunlight exposure so it does not fade.
We hope that this guide has been helpful in inspiring you to invest in your very own lingerie collection. Whether you're feeling sexy and edgy, or feminine and coy, lingerie is definitely the easiest way to express your moods, feel confident and build up anticipation for a sexy occasion. Have fun exploring your sensuality through dressing up and finding the right style just for you!
Check out the Horny.sg lingerie selection!