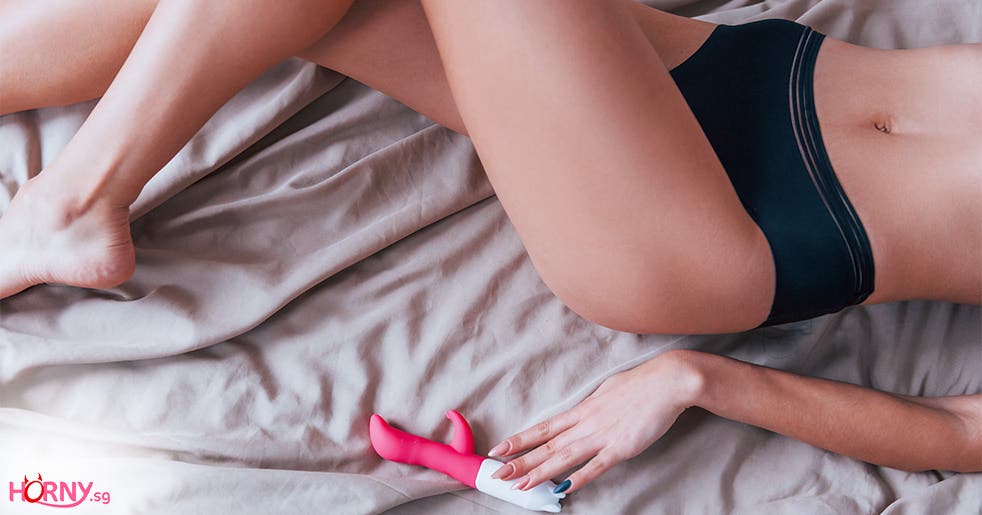 Whether you are a beginner or an enthusiast of self-pleasure, one thing we can all agree on is that the perks of masturbation are getting to know what you truly like and experiencing climax without having to always rely on a partner. While your hands may do the trick, this is also where sex toys come into play - they help to make these solo escapades more enjoyable by offering bigger and better orgasms.
Learn more: Putting 4 Misconceptions About Sex Toys to Bed
Sex toys for women, in particular, have evolved over the years and come a long way. Apart from the most common dildo, there are now even more interesting and fun choices to help you explore self-pleasure.
Not sure where to begin or looking to add some new toys to your collection? We have gathered a list of the six female sex toys you need to take pleasure into your own hands - keep reading to find out more.
Panty vibrator

You may know what a vibrator is but have you heard of a panty vibrator? As its name suggests, it is designed to be worn hands-free in your panties and can be easily controlled using an app or remote. Some panty vibrators are designed to offer external clit stimulation, while others do just that but also pleasure your internal spots at the same time.

A panty vibrator is ideal for some fun on the go, such as during dates with your significant other or for cheeky solo pleasure while out and about. It is also perfect for couples in long-distance relationships - relinquish control and let your partner decide if it is time to wake you up or help you unwind after a long day with a, or a few, mind blowing orgasms.

The We-Vibe Moxie is an app-controlled rechargeable clitoral panty vibrator that is discreet but equally capable of bringing you to an exhilarating climax with 10 different vibration modes. Its compact size fits snugly inside your underwear and can be secured with a magnetic clip for both comfort and stability.

Clit sucker

A vibrator does a fine job but a clitoral stimulator, also known as a clit sucker, might just knock your socks off. Instead of using vibrations to pleasure the clit, a clit sucker uses air pressure to generate pulses that are reminiscent of what oral sex feels like, but minus any sloppiness.

If you are a sex toy novice and are apprehensive about trying out dildos, a clit sucker that focuses on external pleasure will tick all your boxes and provide the same, if not more intense, result.

Try the Womanizer Premium 2, a clit sucker with 14 varying intensities to both build anticipation and send you into a frenzy. The autopilot function randomises the intensities, keeping you at the edge of your seat (or bed) the entire time. With an inbuilt sensor, the device would activate automatically upon skin contact and shuts down when left idle.

Dildo

Dildos are some of the most common sex toys on the market, made to replicate the size, girth, shape and look of a real penis so you can enjoy penetration even without a partner. They usually come with a powerful suction cup at the bottom that sticks to any smooth and flat surface to help you experience hands-free play. Some dildos even vibrate to offer double the pleasure!

While most dildos are realistic-looking, some others are more abstract-looking and come in a variety of colours and materials like glass, ceramic or wood.

The Horny Company's Brad Damn Realistic Cock™ is a thrusting and vibrating pleasure tool that is also safe for anal play. Turn your fantasies into reality with this dildo designed with realistically textured veins!

Butt plug

Exploring anal play can be daunting and not for everyone but there is no need to let the uncertainty deter you from experimenting. You can try taking the first step with butt plugs that are usually shaped like a teardrop and have a wide base to prevent them from going too deep into the anus. They come in all shapes, sizes and materials.

Some butt plugs vibrate and can double up as a vibrator to stimulate your clit or try using it in partnered sex if you enjoy double penetration.

The Lovense Hush 2 is a vibrating butt plug that allows you to program up to 10 patterns, sync it to music or let your partner take charge using close-range or long-distance control. Remember - the anus is not self-lubricating, so make sure to use lube!

Nipple toy

Although the majority of the sex toys mentioned in this list are designed to be used on the lower body, it is also important not to neglect your breasts. Nipples are underrated erogenous zones but paying more attention to them might just offer you stronger orgasms.

Nipple toys can emulate sucking or licking sensations and even pinch them (if that is what you are into) to create pleasure that you have never felt before.

Vibrator

If you prefer staying within your comfort zone or are looking for a safe sex toy choice as your first purchase, then a vibrator is the one to get. Most vibrators can be used on the clit to stimulate about 8,000 nerve endings for leg-shaking orgasms.

They come in various sizes ranging from long, wand-like ones to small, bullet-sized vibrators depending on your needs. For instance, a smaller vibrator works best for use during penetrative sex.

Get your hands on the Lelo SORAYA Wave™, a luxurious rabbit sex toy that offers both clitoral and g-spot stimulation with its eight pleasure settings and their signature come-hither swinging motion.
Shop a range of female sex toys online in Singapore
Horny.sg is your one-stop online sex shop in Singapore with a wide range of female sex toys for you to choose from. Browse selections from well-known brands such as We-Vibe, Lovense and Lelo that will help you to bring self-pleasure to the next level.