HELLO, WELCOME TO MY TOYBOX! - By Amber Rose
I waited a long time to find the perfect toys for me, and you can see my fav pleasure products from LELO. I picked these out myself because I know that if they're good for me, they might be good for you too. And if you love yourself, then your body deserves the best! I hope this helps you make the right choice for you. Because when it comes to pleasure, it's all about YOU. Now go get you some.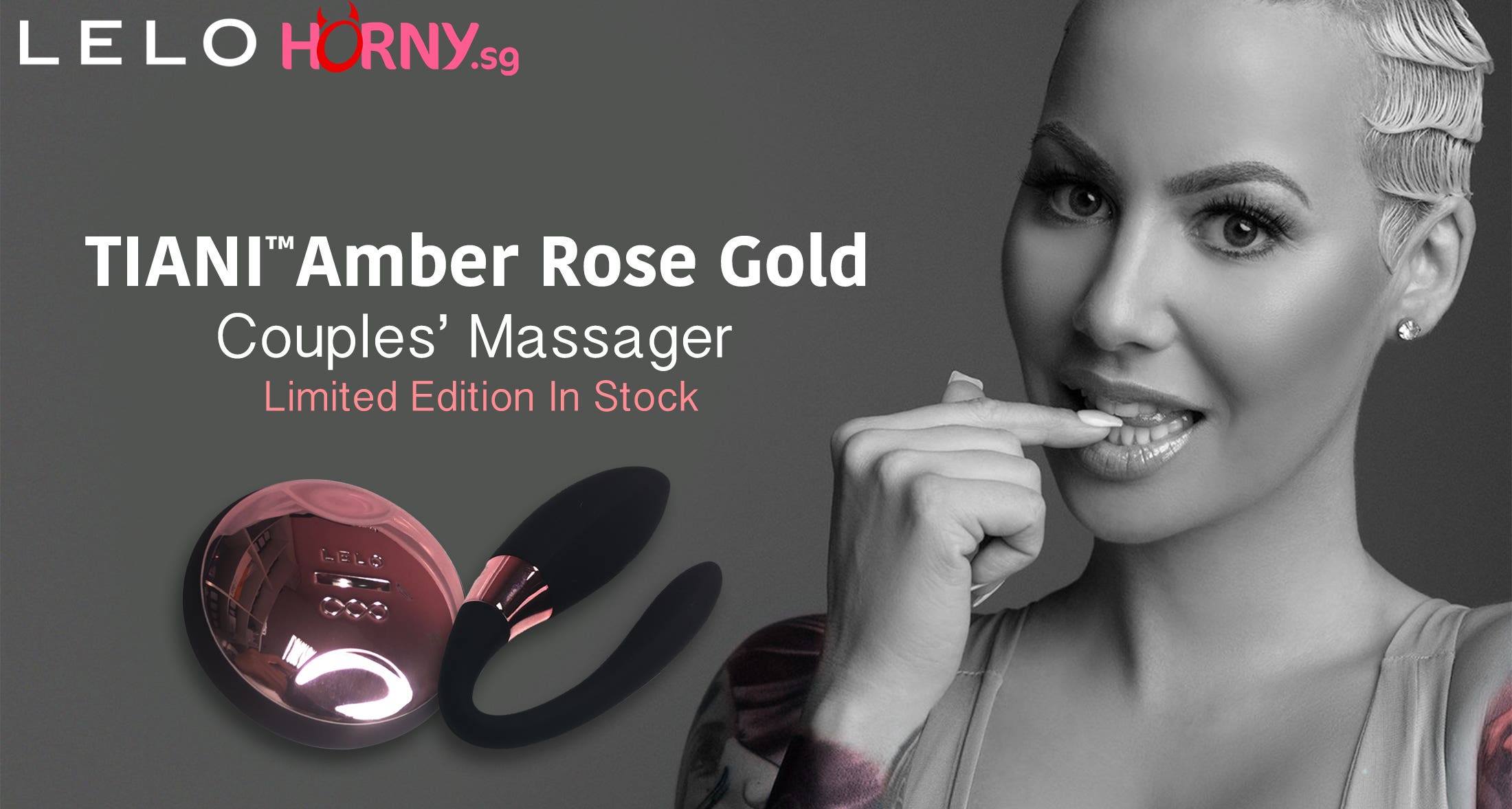 LELO - Tiani Amber Rose Gold Limited Edition
One of Amber Rose's Favourite LELO Toy hand picked for an Exclusive Relaunch. Beautiful Rose Gold and Black Silicone Coated Design for the Most Elegant Women out there. The Remote-controlled 'C shaped' Couples' Vibrator to Wear When Making Love.

A remake Tianitrade; 2, the Amber Rose Gold version can be now truly magnificient with a touch of Rose Gold. The Luxurious version of LELO's original Red Dot Design Award-winning couples' massager is a class by itself. This device is worn by women when making love. The powerful vibrations provide targeted sensations to the clitoris, while the smooth silicone design gives ultimate pleasure and comfort. Waterproof, rechargeable and remote-controlled, Tianitrade; Amber Rose gold is the go-to LELO design for sharing simultaneous orgasms with your partner. While Stocks Last.


Key Features :
- Luxuriously designed with elements of Amber's Specialty Rose Gold
- Quiet , Discreet, Satisfying Vibrations
-8 Whisper-quiet Vibrations Modes
-Waterproof
-Ultra-strong Remote-Controlled Vibe
-SenseMotiontrade; Technology
HORNY.SG Singapore Offers 1 YEAR Local Warranty for all LELO products.
Premium Couples' Massager Worn When Making Love
Smooth Silicone Design with 100% More Powerful Motor
Remote Controls with SenseMotion™ Technology
8 Stimulation Modes (2 created by moving remote)
100% Waterproof & Rechargeable
1-Year Warranty, 10-Year Quality Guarantee

Product Specification
Materials:FDA-approved body-safe silicone/ABS
Finish: Matte
Battery:Li-Ion 3.7v 200mAh. Remote 2 x AAA battery
User Time: Up to 1 hours.
Standby: Up to 90 days (Pleasure Object)
Wireless Range:12 meters
Frequency: 125 Hz
Max Noise Level: <50dB
Material: Silicone

Benefits of silicone rubber for Sex Toys

With the increase consciousness for the use of eco-friendly materials, silicone rubber has became important in the manufacturing of many products, this is even more ideal for sex toys and baby toys.

Generally, toys made of 100% pure silicone are considered body safe and are non-toxic, it is stable and does not release any extractables even at high temperature. There are various grades to determine the quality of silicone rubber, Body-safe grade/ Food grade, follow by medical grade to sensitive medical equipments, and implant grade at the highest level.

Silicone matte surfaces have non-stick properties. They are stain resistant, anti-slip and anti-dust. This makes cleaning easy. It is lab proven that pure silicone material is non-porous, it can be completely sterilized as it is non-porous (or do not have micro-pores that harbors bacteria) This makes it the most superior material to be used for Sex Toys.

Silicone rubber is soft but may be stiffer than TPR (Thermal Plastic rubber) and relatively lightweight. Do not melt easily, Silicone is heat resistant up to 430°F / 220°C
Durable with high tensile strength that allows toys to recover from both stretching and crushing with no damage. Full silicone rubber are usually odorless.

Cleaning your Silicone TOY?
Wash with warm water and mild soap- preferably foamy kind, try not to wet electronic components.

Care
It is important to note although silicone rubber is stable, it cannot be used with silicone based lubricant. It will deform when it comes into contact with silicone based lubricant and may cause it to fuse together. Usually only water-based lubricant is recommended!


| | |
| --- | --- |
| SKU | 7350075027697 |
| Material | Silicone |
| Waterproof | Submersible |
| Power Type | Rechargeable with USB Charger for vibrator , Battery-Powered for Remote Controller |
| Functions | Couple Vibrator , Dual Motor, Motion Sensor Remote Controls |
| Vibration speed | Speeds and patterns |
| Total Length | 8.8cm |
| Insertable/Usable Length | 7cm |
| Width/Diameter | 4.4cm |
| Battery Type | Rechargeable for vibrator , 2x AAA-Batteries for Remote Controller |
| Flexibility | Easily bendable |
| Condom safe | Yes |
| Additional Information | Duration: 4 hours of play, Charging: 2 hours |
| Country of Origin | Sweden |