The Ultra tight replacement sleeve for Try Fun's Soul Series Thousand Faces Masturbator
An ultra tight sleeve that tightens further right before the end, opening into a chamber with spectacular nubs!
Try Fun Soul Series Thousand Faces
The TryFun's Flagship model from the soul series - the 'Thousand Faces' is a multi functional electric masturbrator with design inspired by the ultra-modern space capsule. The elegant bright moon white frame is integrated with the deep sky dark LED touch screen. The minimalist design of returning to the origin attaches a touch of oriental Zen to the fair cup frame. Apart from exceptional design, it is also a piece of technology that depicts China's Deep Tech industry that touches all parts of our lies. The soul series defines the next generation of men's pleasure.
Get ready for the ultimate sensation with an exciting 6 in 1 features, with 3 extremely irresistible erotic whirlpools of suctions, 4 different vibration mode, and high tech LED touch screen buttons. The specially designed tight silica gel sleeve is carefully designed to deliver pleasure with a 'tip ring' pearl touch central screw tight winding pattern, ridge stacked inner wall, and twist entry floating point stimulation. It provides a great level of comfort to all users to fully experience the pleasure of 'Thousand Faces' from the soul series. You may wish to explore 2 other available sleeves sold separately (tight model , and comfort model) . Warm it up to a realistic body temperature for additional pleasure with its heating fuction in just 4 mins, and it will preserve its heat for 11 minutes serve you all the way to the end of your session. Finally, the Thousand Faces - soul series has a Turbo button to turn on 'God-mode' instantaneously to maximise the suction force and vibration force at your command !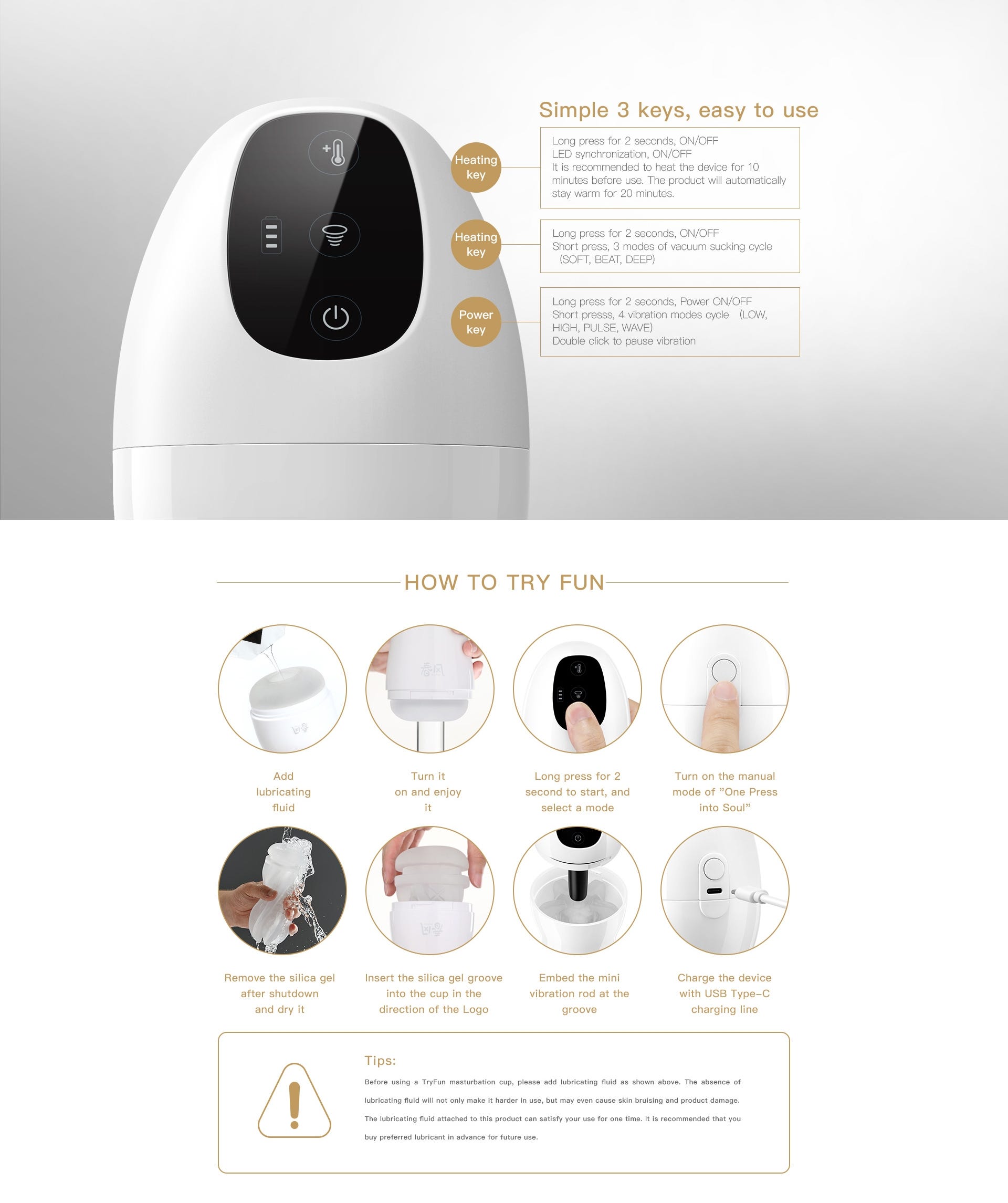 KEY FEATURES
3 x variations of Vacuum automated suction experience
4 x vibration modes to explore , Low, High, Pulsation, and Wave pattern
High Tech LED Touch Screen keypad
Warming functions to adjust to life-like body temperature
One touch Turbo GOD MODE button, conveniently located at the index or middle finger position while grip the device into action. Turn it on to maximise the suction and vibration force instantly!
Exquisite design of a highly pleasurable Body-safe TPE Silica gel sleeve that is easily replaceable. Made of high standard material that is easy to clean and reused 50 - 100 times.
USB rechargeable Device, charging time 2 hours for 1.5 hours of utility
Made in China with High level of Technology
1 Year Warranty
| | |
| --- | --- |
| SKU | 6906628121865 |
| Color | White |
| Brands | Try Fun |
| Material | TPR |
| Functions | Replacement Sleeve |
| Condom safe | Yes |
| Lubricant type | Water-Based |
| Country of Origin | China |