Our Delivery are 100% Discreet, No Logo, No Company Name


Local (Singapore) Delivery Policy and Guide (For International Delivery 'Click Here' )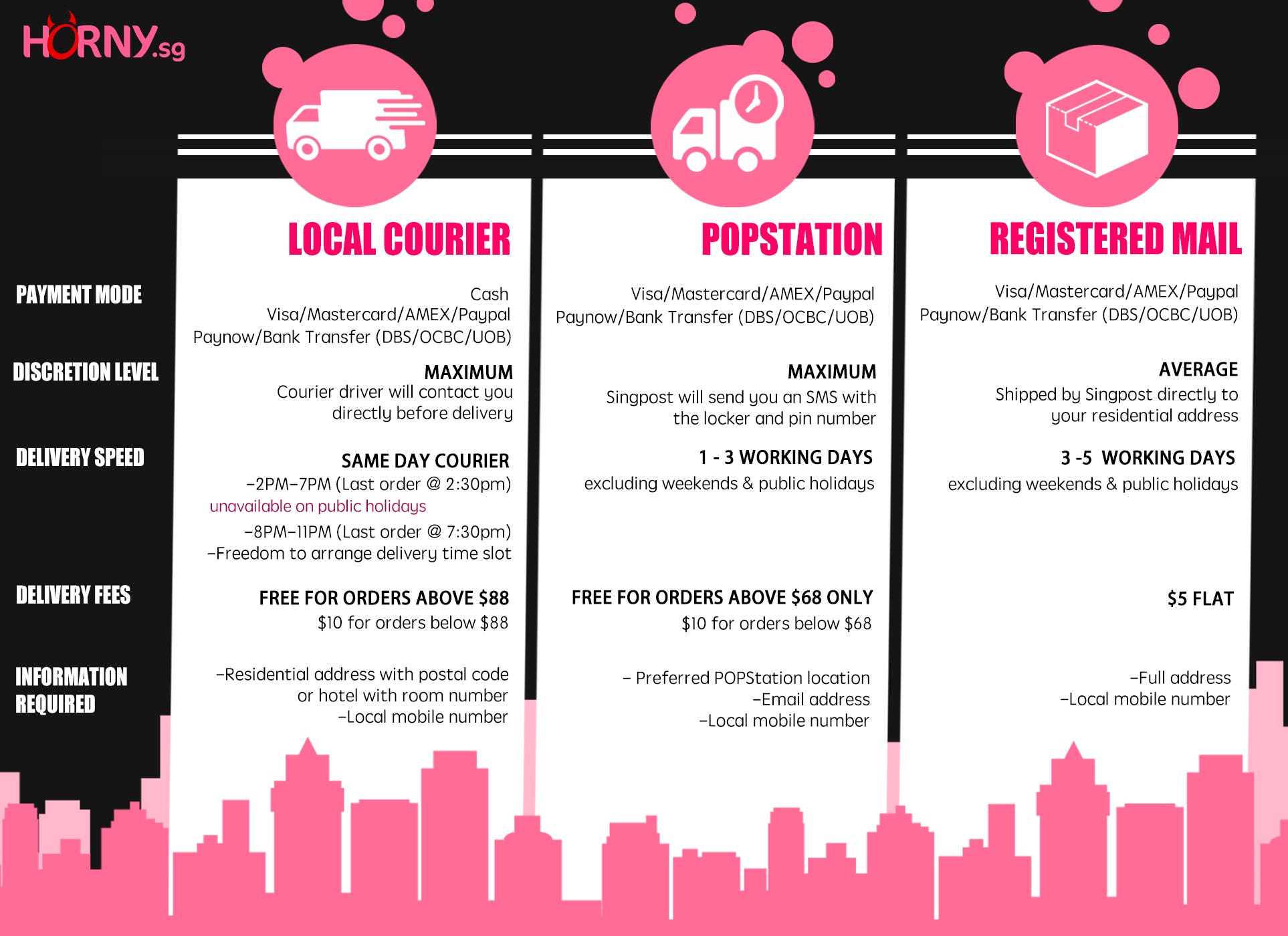 "Same Day" Express Delivery (Daily)

Afternoon Timeslots 3pm - 7pm Cut off time daily extended to 2.30pm for last orders (Afternoon slot is unavailable on Public Holidays)

Night Timeslots 8- 11pm Cut off time daily extended to 7.30pm for last orders (This slot is available 365 Days a Year)
* Delivery dates set on the next day or on other preferred dates are not affected by the Cut Off timings.
* Same Day 'Local Courier' is highly Recommended for 'Really Fast Delivery'. This option provides better flexibility for your convenience, with Maximum Discretion. 'Local Courier' is Free for orders above 88 Singapore Dollars, or a $10 charge is applicable. Cut off time for Same Day Delivery at 7.30pm daily. We deliver on Daily and even on Public Holidays (Note** Only night shift for P.H). This Delivery service is only for locations within Singapore.

Our friendly Delivery Personnel will deliver to your Preferred Location based on your selected TimeSlot.

We engage a professional courier company for Door to Door/ Personalized delivery with high level of flexibilty for your convenience.The content of your parcel will never be revealed to the courier for Maximum Discretion. The delivery party will contact you via SMS or Phone call in advance before arriving at your location. Please provide a Singapore Registered Mobile Number or Whatsapp Number (For Non-residents)

You can leave a "Delivery Comment" at the checkout page , or respond to the courier if you would like to collect at the void deck, Apartment gate, or any special instructions for example - Don't use the Doorbell/ Leave in Shoe Cabinet/ Riser etc. (This applies to Locations in Singapore Only).
Our Delivery are 100% Discreet , No Logo No Company Name No one will be able to tell what is in Parcel, NOT EVEN the courier company. All our parcels are double sealed with a layer of white/ DHL courier bag and secured in kraft courier bags/ carton box. These courier bags are tamper proof and you will immediately know if someone tempers with your parcel. Our packaging techniques are tested and proven to the most discreet. Rest assure your sex toys are delivered with the most discreet manner possible.

We ship to Hotels and Serviced Apartments Please leave your room number, contact number and first name (as required by hotels). Our courier can either leave your parcel at the concierge or call upon arrival. * This Sex toys delivery service is only for Hotels located in Singapore. Again, rest assure your sex toys are delivered in the most discreet manner.

"Same Day" Self Collection Operating Hours
(Cash, Card Payment NETS, VISA, MASTERS available in our Location)
Address : 756 Upper Serangoon Road , Upper Serangoon Shopping Centre Singapore 534626 (CarPark Pick up point / Unit 01-21)
You can collect immediately after placing your order ( We operate 365 days per year )
Opening Hours :

Monday - Fridays : 11am ~ 8pm
Saturdays - Sundays & Public Holidays : 11am ~ 8pm
Call or SMS us @ +65-97772176 with your order number & we will prepare your order in advance.
* ( For paypal payments, kindly email us paypal's receipt to notify us upon collection)

"Singpost Popstation" (Cash payment (COD) N/A for this option)
POPStation (Pick Own Parcel Station) is a new and secure way to collect your parcels. You can now shop online with SingPost's retail partners and have your items delivered to a POPStation near you for self-collection 24/7 at your own convenience. No more missed deliveries, rushing for closing times at out showroom or pick up location. POPStations allow you to collect a parcel at a time and place convenient and discreet for you, especially when you are purchasing something sensitive for your own pleasure.
- Order will be process only on Mondays - Fridays excluding public holidays if customer chooses this option.

- Singpost will notify customers in 2 working days on Pin Number via Email or SMS.
Want to know more about Pop Station Service? Click here
"Singpost Registered Mail" (Postage) *(Cash payment (COD) is 'Not' Applicable for this option)
Postage to be done only on Mondays - Fridays excluding public holidays. There will be a extra charge of $5.00 for customers who wish to apply for Singpost Registered Mail (Deliver in about 3-5 Working Days)
- You will receive your items from your address mailbox within 3-5 working days from date of dispatch.
- Only for orders and pre-payment paid through PayPal or Bank/ Fund transfer upon confirmation of order.
- Items will be automatically post out the very next working day after order and payment recieved. (Cut Off Time will be 7pm in order for us to prepare your parcel, after cut off time, it will be sent to Singpost in 2 working days)
- You will be notified in any cases, if parcel wasn't post out the next working day
- For SingPost Registered Mail you will be required to sign for delivery. You may check the status of your registered package by entering the SingPost website with the Registered Article Number which will be provided to you upon our dispatch to Singpost.
* A tracking number will be sent to you, so you can keep track of your items. For Registered Mail will not able to ensure the delivery to be sent at your stipulate date/ time as it will be fully managed by Singpost.
Alternatively - Top Up your order to 50 SGD NOW for Free 'Popstation Services' ! Click here to Read More on our POPstation Islandwide service !
While we stock our products adequately for online sale, however, at times, some items may be out-of-stock just at the time of your purchase because of overwhelming response. We will notify you by sms, email or phone call to offer an alternative item should the item you purchased is no longer available.