FAQs about Horny.sg E-Waste Program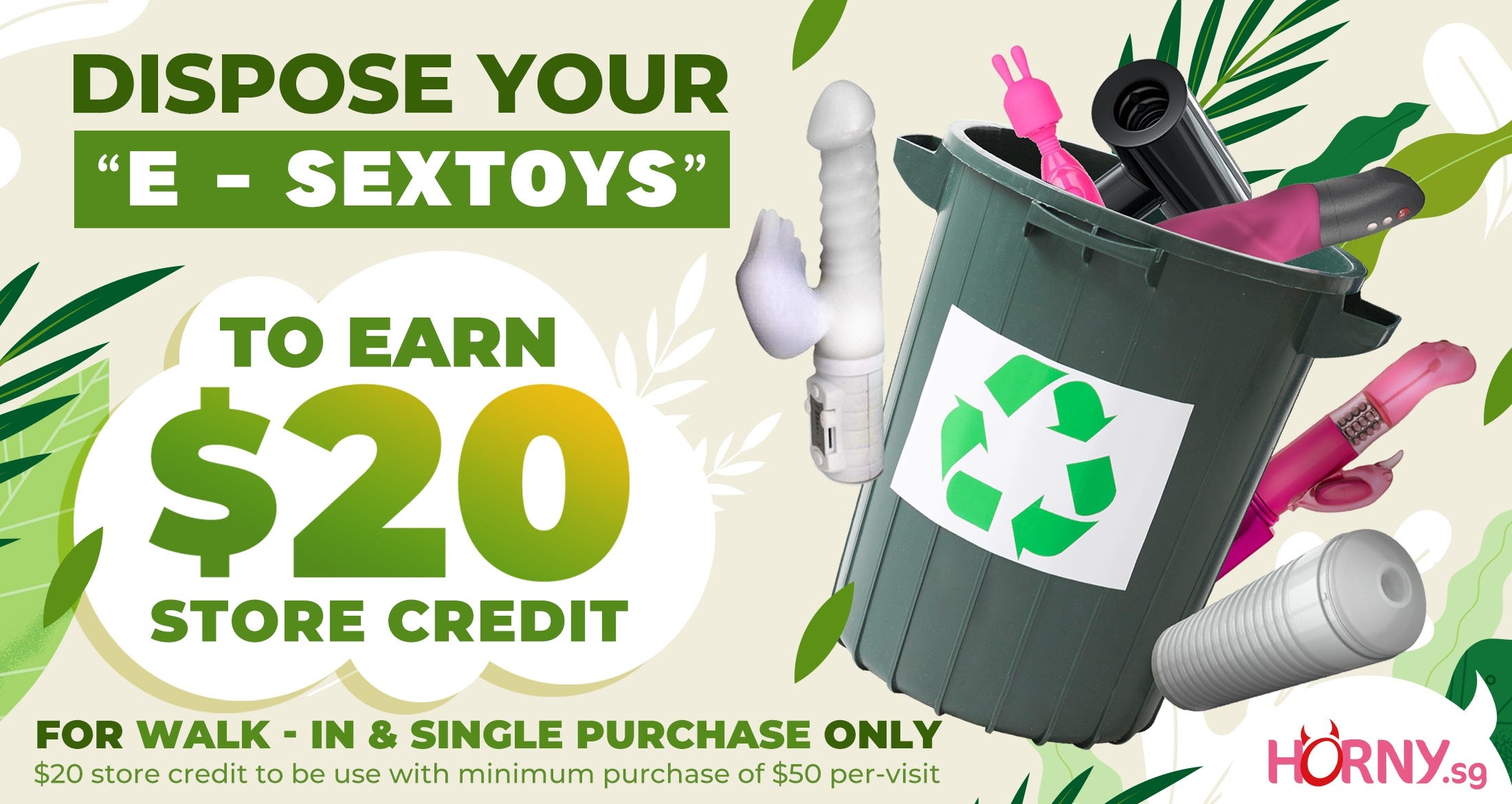 How does your e-waste promotion work?
When you recycle your sex toy with us, you will get a S$20 store credit with a minimum purchase of S$50 per visit. You can only redeem one voucher per visit per day regardess of number of sex toys you submit.
How long are you doing this e-waste promotion?
We don't have plans to change the promotion mechanics at the moment. However even if we change the conditions of the promotion, we will be continuing to our recycling efforts.
What sex toys do you accept?
The sex toys we are accepting are only for electronic ones regardless of manufacturer, size or material. We do accept broken or unwanted sex toys for recycling regardless of whether purchased them from us. If your vibrator uses batteries, please remove them. If you have a vibrator that uses recharging with USB then send it as is, no need to tear it apart to get the battery out.
Please don't dispose anything wet or dirty! If it's too gross to handle, we reserve the right to reject it. Do disinfect your unwanted sex toys by soaking them in a 10% solution of bleach for 10 minutes and let them air dry completely.
How did you decide to start this e-waste program?
As a future-looking company, we could not ignore the environment impact of our consumption. One part we can better serve our customers and environment is facilitate the proper disposal of e-waste. Horny.sg is the first sex shop in Singapore to undertake such an initiative. I hope other sex shops will soon follow. E-waste is something that affects all of us.
Can you collect the toy from me?
We are unable to do so at the moment.
Where is your store?
To dispose your pleasure toys responsibly, you can drop them off in the e-waste bin at Horny.sg located at:
756 Upper Serangoon Road
Upper Serangoon Shopping Centre #01-21
Singapore 534626
How do I get there?
Directions for drivers:

If you are driving, it's a 54 sec (1km) drive from Kovan MRT and 3 mins (2.5km) drive from Serangoon MRT along Upper Serangoon Rd
Please key-in postal code S534626 to your mobile map or GPS and you will get there, TURN-LEFT BEFORE HOTEL 81 into KG Sireh Rd & TURN-RIGHT at 1st T-Junction, Drive pass the carpark gantry and you will be able to see a Pick up point. 10 minutes grace period for Carpark *
Directions for non-drivers:
If you are taking the Train, alight at KOVAN MRT Station , Exit C proceed to Bus-Stop and take Bus Number 80 , 81 , 82 , 101 , 107 , 107M , 136 , 153, alight at 2nd Bus-stop.
https://horny.sg/contacts
What are your opening hours?
Opening Hours : 11a.m. – 8p.m. everyday