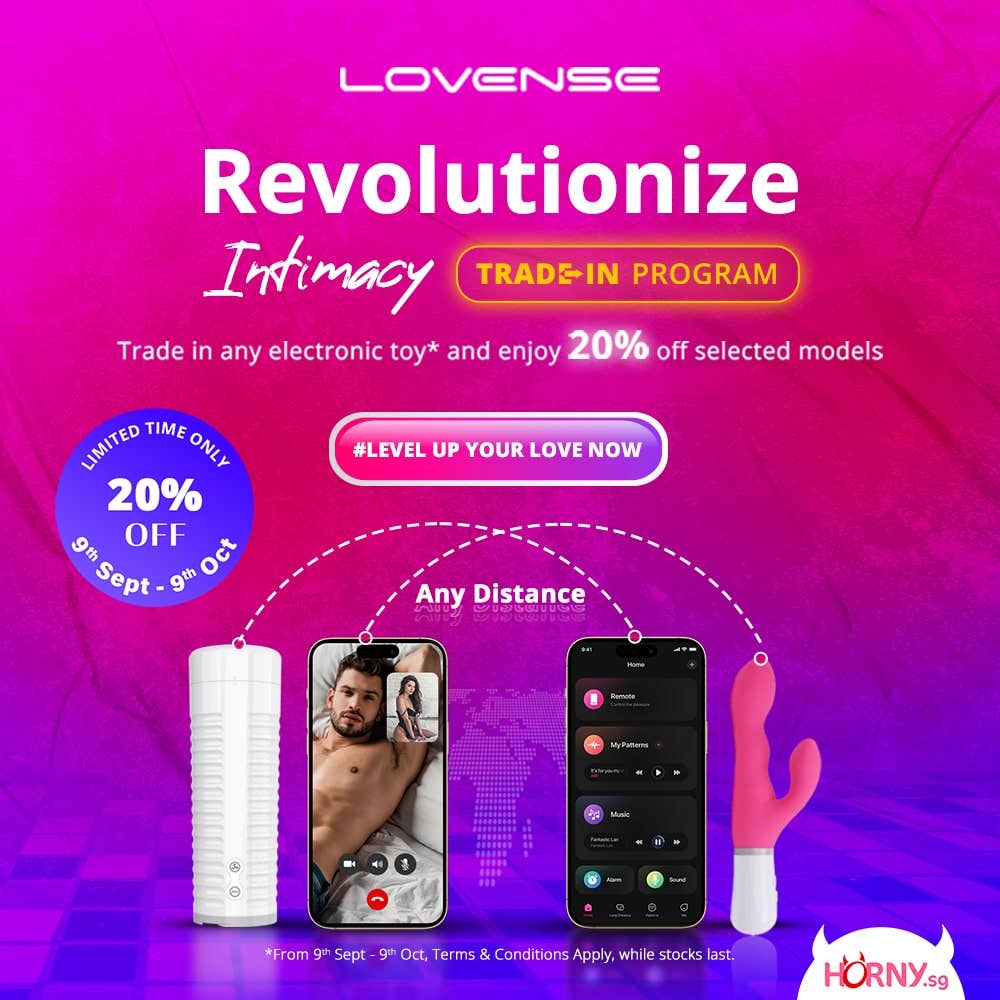 Get ready to #LevelUpYourLove with Lovense! Upgrade your intimate moments by trading in your old electronic toys for an exclusive 20% off on selected Lovense app-controlled toys for a limited time only. Perfect for long-distance couples or those who want to surrender control, Lovense's app-controlled functions is your passport to unparalleled pleasure and connection. Whether it's pulsating intensity or gentle caresses, turn up the heat in ways you never thought possible. Limited from 9th Sept - 9th Oct!


How does it work?

Copy and Paste this template to send a WhatsApp to +65 97772176

Email:
Order No:
Current Brand:
Current Model: (if unsure, state as 'unknown')
2 images of the current model:

Terms & Conditions:
Promotion period:

9th Sept - 9th Oct 2023

.
Trade in is only applicable for: any electronic toys (of any brand/value) in exchange for Ferri, Dolce, Exomoon, Gemini, Gush, Max 2, Edge 2, Calor models. (e.g. a female electronic toy may be traded in for a femaly only Lovense toy from the selection).
For single purchase only. Limited to one of each genre per customer. (e.g. a customer may trade-in for one female toy and one male toy. A customer will not be able to trade-in for 2 female toys or 2 male toys.)
We require a minimum of

2 clear and appropriate images of the item(s) for evaluation purposes

. Online orders without the image verification will be canceled and refunded.
We reserve the right to reject the trade-in if; the request form was not filled properly; the item images are not clear or appropriate; the trade-in item has not been cleaned prior to return (FOR INSTORE TRADES); misuse/abuse of the trade-in policy.
Limited sets available for trade-in, while stocks last.