Earn Reward Points & Store Credit
Introducing Pleasure Points: Your Passport to XXX-clusive Rewards!
At Horny.sg, we value our loyal customers like the VIPs they are, except instead of a red carpet, we'll roll out the satin sheets for you!
By creating a Horny.sg account, every time you make a purchase with us, you'll earn Pleasure Points that can be turned into actual store credits that you can use to keep the party going!
But let's take it up a notch. Pleasure Points are not just points; they're your passport to unlocking a world of rewards and benefits. From special discounts, new launches, early sales, giveaways and events, we're here to ensure your journey with us is just as satisfying as the big O!

Check out the ways you can earn points:
Registering an Account - 100 Points (Per account): As a new customer, when you register for an account at Horny.sg, you'll receive 100 points as a gesture of our appreciation.
Make a Purchase at Horny.sg: For every Singapore Dollar you spend at Horny.sg, we'll add 1x Reward Point to your account. The more you shop, the more points you earn, and the more credits you'll have to indulge!



Writing a Product Review - 25 Points (Per product): Share your honest feedback with us and the community. Once your review is approved, you'll receive 25 points. Remember, we value genuine reviews that provide valuable insights for others. Please refrain from vulgarities and one liner reviews telling people that "IT IS Crap!!!" with no further explanation. You can receive up to 100 points per day on writing reviews.
As we want to foster a community of genuine pleasure-seekers in a safe space, do note that abnormal activity, excessive spamming and/or the use of fake accounts will not be tolerated. These accounts may have their points removed or closed.
So, are you ready to amplify your pleasure and get rewarded for it? Simply make sure you're logged into your account when placing your order and let's get the party started!

Don't have an account? Sign up now
---
Rewards Points and Store Credit FAQ
Can I use reward points directly to offset / pay for my orders?

You will have to convert reward points to store credit before you could use it. 1x Store Credit is = to 1x Singapore Dollar . Store Credits do not expire but Rewards Points will expire after 365 days from the day you earn them. So make sure you convert them!

How do I convert reward points to store credits?
You have to logon to your account. After you have selected items fo your new purchase, go to your shopping cart and you will see Reward Points availabe to Convert. Enter the number of reward points to be converted to Store credits. One Store credit requires 100 reward points, and you can only convert in blocks of 100 points. If you have any question(s), we are just a livechat/ email away.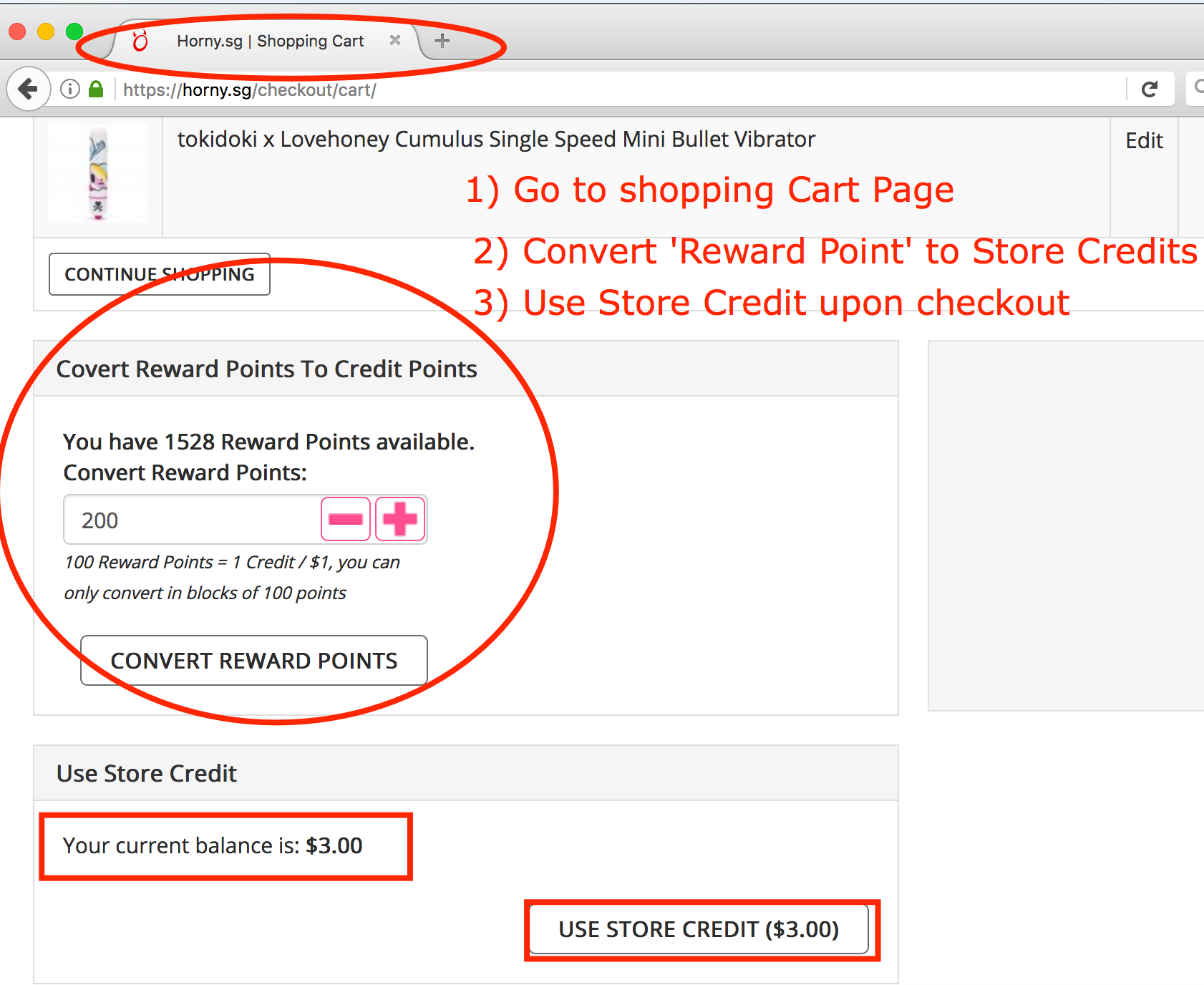 Is there a minimum spend before I can use points
For stores credit there are no minimum spend or minimum credits to use. You can pay for your entire order with credits including delivery fees, or you can pay partial and the rest by the payment method of your choice

What happens to the remaining credits that are not used? For refunded products how should it be treated?

Your unused store credit will always be in your acccount until you use it. There is no expiry date for Store Credit balances and you can keep it for as long as you like.

Can I apply discount code and use 'Store Credits' to make my purchase?
Yes, for Sure. You can use Store credits on all Sales items, and inconjunction with applying discount codes on the orignal subtotal amount. Store credit is a virtual currency that is unique to Horny.sg

Can I pay for shipping with my store credits?
You use your credits against your whole order total including delivery

Reward Point & Store Credit Expiration
Reward Points will expire in 365 days if you do not convert them to store credits, on the other hand Store Credits do no expire. However, only points that were gained in that certain transaction will expire, not your total reward points balance

For example:
10 days ago you registered your account for 100 points. Today, you make a purchase and awarded 50 points. Your Reward Points balance is now at 150 points. The 100 points you received for account registration will expire in 355 days since 10 days have passed. The 50 points that you received from the purchase is still valid for 365 days. Convert your points into store credits as soon as possible to avoid expiry!

Can I use my reward points/ store credit to purchase a gift card?
No - you cannot use points or store credits to buy a gift card
Do I earn addtional reward points when using a credits to pay for an order?

You only earn points on the amount of your order that you pay for with real money or a gift card
How to redeem Store Credits?

Using store credit is as easy as paying from your E-wallet. As long as you are signed in and have credits in your account, you will be given a choice to spend your credits while you are in the shopping cart or at checkout. Simply choose how many credits you would like to use - it is all up to you.
Terms & Conditions
Reward Points and Store Credits have no monetary value and cannot be used for any purpose other than redeeming products sold in Horny.sg. Both Reward Points and Store credits will not be available to be refunded for their cash value. We may from time to time adjust your points and credit account in respect to accounting errors, multiple accounts, refunds issued, products returned or suspected fraud, for which we have full authority. We reserves the right to take away any points or delete your account without notice if we feel that an account has been abusing or spamming in order to receive extra reward points or store credits.
Placing an Order - At least 2 Points Per $ Spent
When you become a registered user, you become on 'Entry Level' of our new customer loyalty program. Make your first purchase above $100 to qualify for 2 points per dollar spent in your next purchase. For every order in Horny.sg completed and shipped out, you will receive 2 points as a Bronze member for every dollar you spend. This applies to shipping fees and taxes as well. The more you purchase, the more points you will accrue for use in the future and brings you closer to the next member level. (Please note that we cannot apply points from orders that were purchased as a guest, you'll have to login)

You can earn up to 3 Points Per $ Spent as a Gold Member with a 2% overriding discount on all purchases. For more information, see below under "Loyalty Program"

Loyalty programs

The program is Simple and FREE! Registered customers are split into Membership Levels based on your Lifetime Purchase. The more you purchased, the Higher the Level, the Better the Rewards!
To check your account statistics, go your account dashboard and click on the "Loyalty Program":
You will see your current order stats and how much you need to move on to the next Level.
Please see the chart below for your Membership Benefits:

The % discount will be automatically applied in the Shopping Cart total. Please note - only orders with "Completed" status will be awarded the reward points, updated into your lifetime cumulative purchase amount. You will be able to see clearly the total amount of lifetime purchase under the 'Loyalty Program Tab' after logging in, and will be able to tell straight away how far away you are from the next level.

Be sure to check back from time to time as the member benefits will change on a monthly basis!
*Only orders purchased on a registered account can be calculated, so please register now if you haven't already!
Horny.sg reserves the right to remove member status or cancel the program if we find dishonest use or abuse.
For assistance to claim your 'Store Credits' Please Livechat us. We are here to help