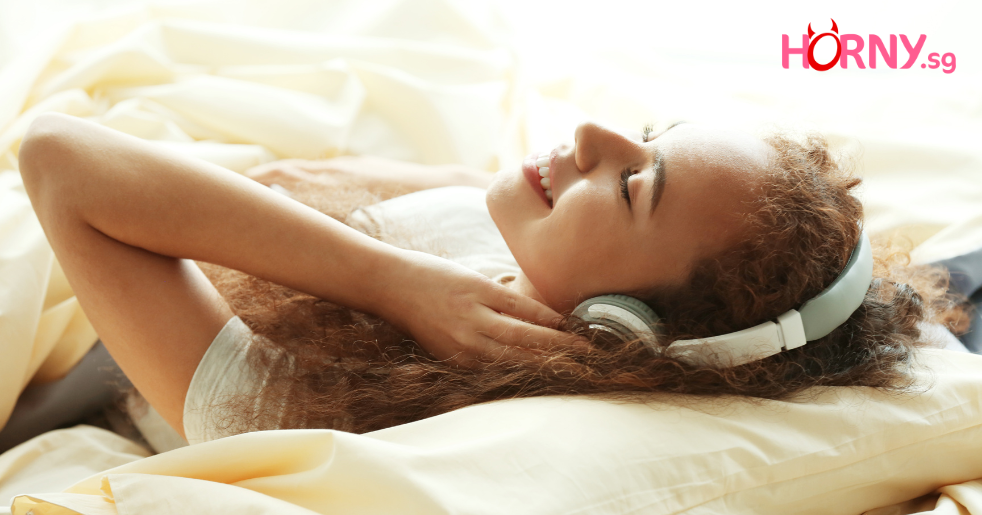 Masturbation is a form of self-love that can be made even more pleasurable with the addition of erotic audio. Listening to erotic audio while masturbating can help you explore your sexual fantasies, heighten your arousal, and achieve more intense orgasms.

Erotic audio comes in many different forms, from guided masturbation sessions to steamy romance novels turned into audiobooks. The key is finding what works best for you and your unique desires. For those who prefer a more interactive experience, guided masturbation sessions can provide a personalized touch. These sessions typically involve a narrator who walks you through each step of your masturbation, encouraging you to explore different sensations and techniques along the way.

For others, erotic audiobooks can offer a more immersive experience, allowing you to lose yourself in a steamy story while you pleasure yourself. This can be a great way to explore new fantasies or indulge in your favourite erotic scenarios. With the rise of platforms like Audible, there are now countless options for finding the perfect audiobook to enhance your solo play.

Incorporating erotic audio into your masturbation routine can be a game-changer, providing a new level of pleasure and exploration. Whether you prefer guided sessions or steamy audiobooks, there is an option out there for everyone. Don't be afraid to experiment and find what works best for you – your solo playtime will thank you.

Here are a couple of platforms for you to explore erotic audio:
Audiojoy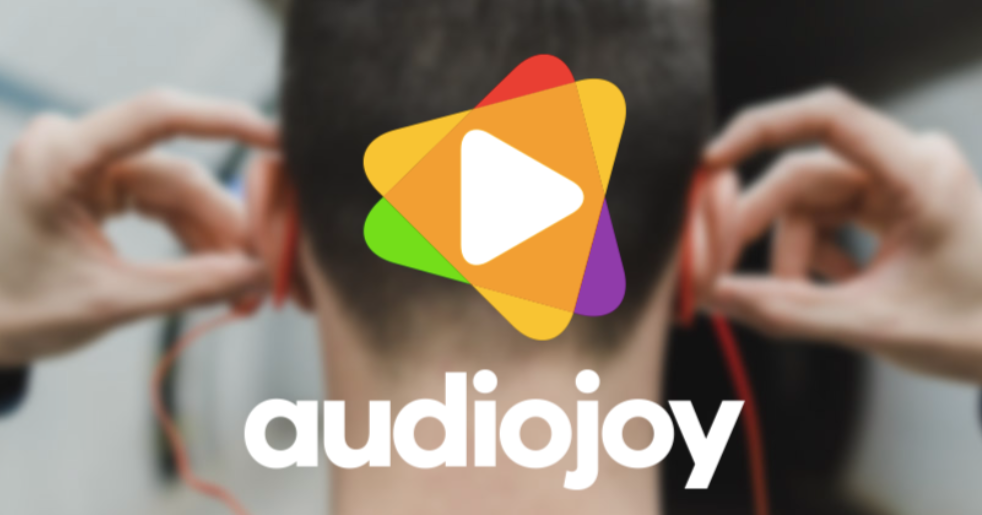 Audiojoy is a website that offers a range of audio-guided meditation and relaxation sessions, as well as erotic audio content including guided masturbation sessions. The site features a variety of voices and styles, and you can filter by category (such as "sensual" or "kinky") to find content that matches your interests. Audiojoy offers a free trial so you can try out the service before committing to a subscription.

Audiojoy: https://audiojoy.com
Dipsea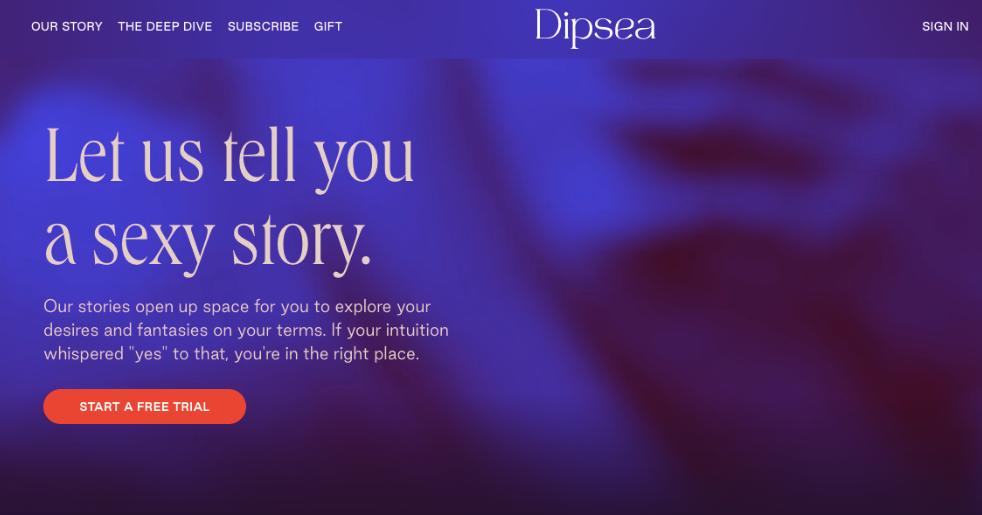 Dipsea is a popular app that offers a wide range of erotic audio stories, from steamy one-on-one encounters to romantic adventures. The app is designed with women in mind, but the stories are enjoyable for anyone interested in exploring their sexuality through audio.

Dipsea: https://www.dipseastories.com
Quinn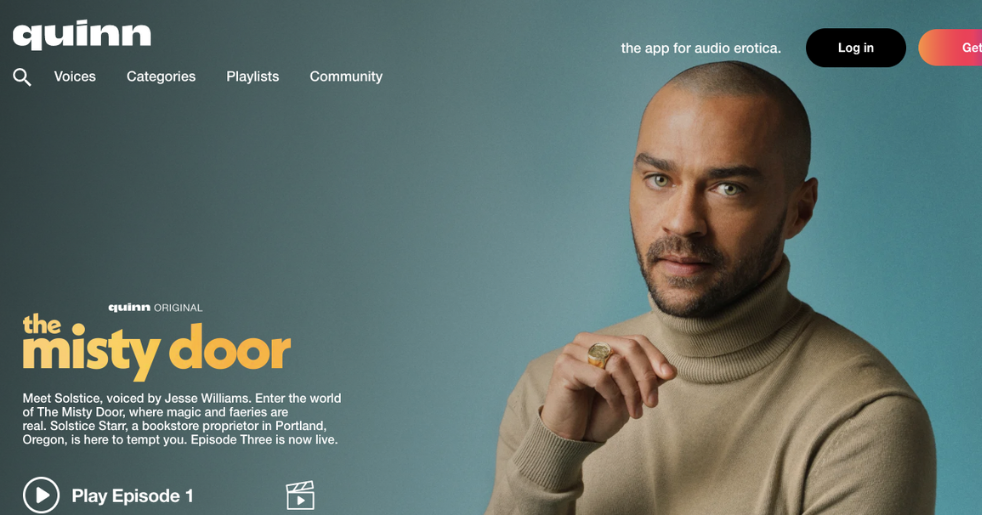 Quinn is a newer app that offers a more personalized approach to erotic audio. The app asks you a series of questions to determine your preferences and then recommends stories that match your interests. This can be a great option for people who are new to erotic audio and aren't sure where to start. It offers erotic audio stories that are geared towards women and LGBTQ+ individuals. They also offer a variety of themes and storylines, from romantic to kinky.

Quinn: https://www.tryquinn.com
Erotica Podcasts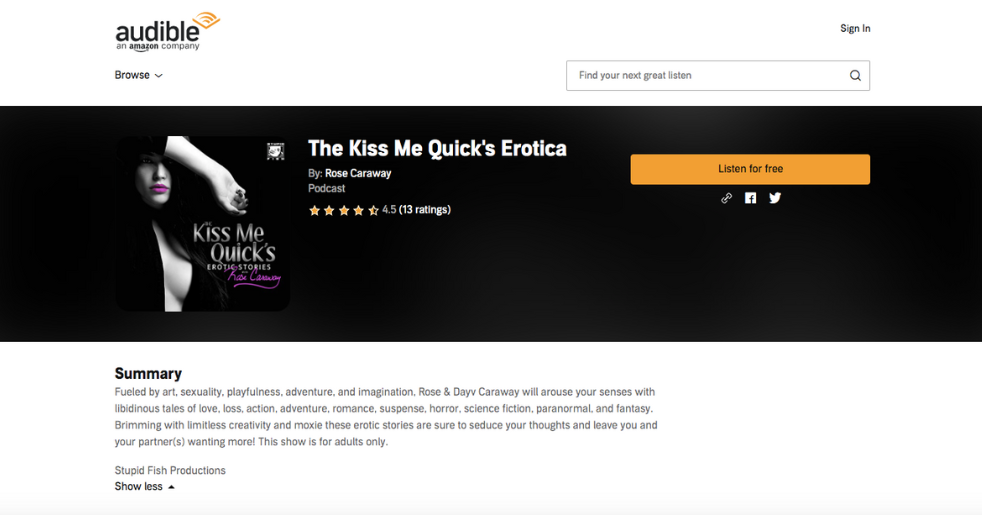 If you prefer to listen to erotic stories for free, there are many podcasts available that feature readings of erotic fiction. Some popular options include "The Kiss Me Quick's Erotica Podcast," "Sex Out Loud with Tristan Taormino," and "The Sexy Librarian's Erotica Blog-Cast." These podcasts offer a wide range of stories, from sensual to kinky, and can be a great way to discover new authors and explore different types of erotica.

The Kiss Me Quick's Erotica Podcast: https://www.audible.com/pd/The-Kiss-Me-Quicks-Erotica-Podcast/B08K55WM2C

Sex Out Loud with Tristan Taormino: http://tristantaormino.com/sex-out-loud/about/

The Sexy Librarian's Erotica Blog-Cast: https://www.podchaser.com/podcasts/the-sexy-librarians-erotica-bl-3303
Audible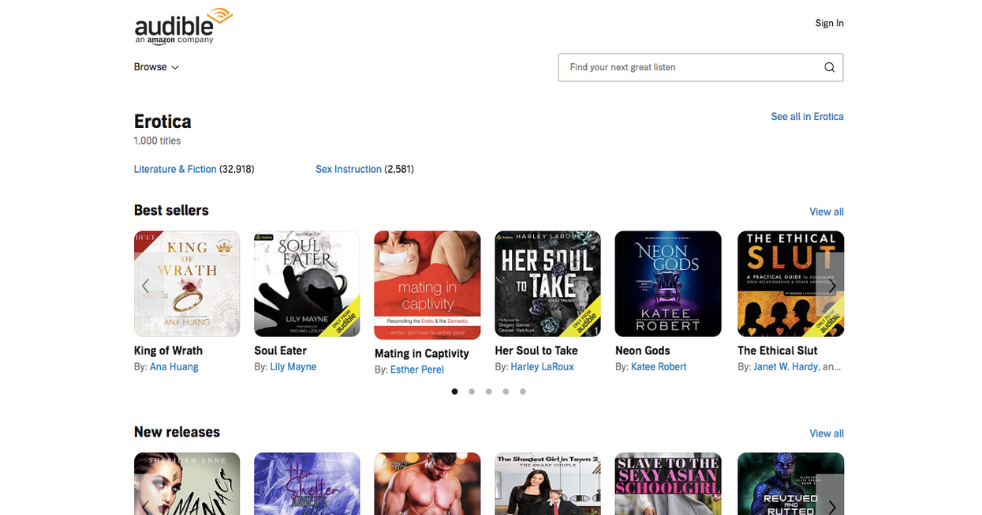 Audible is a popular audiobook platform that offers a wide selection of erotic audiobooks, including both fiction and non-fiction titles. This can be a great option for people who prefer longer-form stories or who want to explore a specific topic related to sexuality, such as BDSM or polyamory. They also have a whole section on audio Erotica. Plus, since Audible offers a free trial, it's a low-risk way to try out erotic audiobooks and see if they're a good fit for you.

Audible: https://www.audible.com
Erotica on Audible: https://www.audible.com/cat/Erotica-Audiobooks/18573351011
BDSM audiobooks on Audible: https://www.amazon.com/BDSM-Audible-Audiobook-Erotica