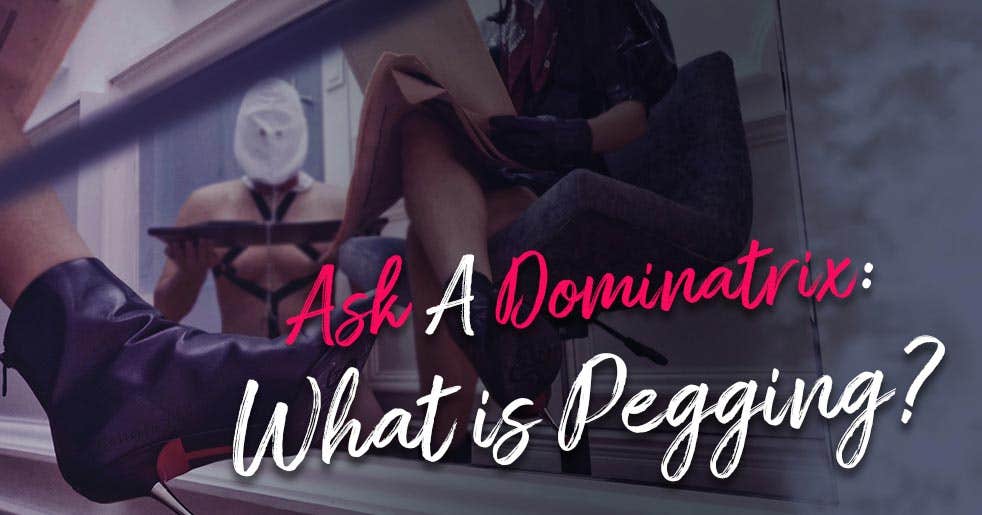 In recent years, the term 'Pegging' has become commonly thrown around correlating to sex. It can be daunting at first especially when prejudice around the thoughts of men is emasculated.
Some may find it degrading as the receiving end but at times, it is a symbol of power to take control of your sexuality, your body and communication with your partner. Unsurprisingly, "Pegging" was among Pornhub's trending search terms in the 2022 Year In Review Statistics.
Definition of Pegging

Pegging is the act of a person using a strap-on phallus toy, also known as a dildo, to penetrate their partner in the ass. Commonly in cis dynamics, it is done by a female partner for a male partner. In this anal sex role reversal, the thought of having a dildo up a male's ass can be terrifying for some.

This is due to a mental turn-off for straight males caused by patriarchal society's stigma thinking they would end up being homosexual. One should not feel it is a shameful and guilty sexual bedroom activity. It does not make a male less than a man (Unless you wish to feel that way as part of a degradation fetish).
Pegging for Pleasure

Although there is not much physical stimulation for the female using the harness method, this role reversal is the epitome of power exchange in a D/s connection (Dominance/submission). Mentally, it is arousing for females as it may feel empowering to break the traditional gender roles during sexual intercourse. It can also be an excellent workout for females with hip thrusting.

For some males, pegging can be a source of sexual arousal and achieve prostate stimulation. It can also be part of sissification fetish play where they will dress up as a female. Their wild imagination pretends that their ass is a vagina and would like to achieve 'sissygasm' also known as the male A(anal) and 'P(Prostate)-spot' orgasm. Unlike penis ejaculation, the feeling is entirely different and those who experienced it will describe it as a mental orgasm rather than a physical one. The prostate's function is to produce a fluid that nourishes and protects sperm during ejaculation.
Pegging during Femdom Play

There are many kinks and fetishes that are associated with Female Domination (Femdom) and pegging is one of them. Incorporating it together with this D/s power exchange role or just as a service top/receiving bottom is a liberating experience for both partners. It is important to communicate with your partner. Consent is key and planning in advance will help to make the experience pleasurable.

Would you try pegging as part of your bedroom activity? Stay tuned for Part 2 - The Art of Pegging!
Find Out More About Femdom

What is FemDom? Dig deep in the rabbit hole and discover about this universe and be exposed to equipment that may help during play.

Take charge of your power and be the one leading in the bedroom or perhaps, in the relationship. In line with International Women's Month, we would like to empower Women and their partner(s) to explore the joy of Female Domination.

Learn the basics of BDSM (Bondage & Discipline / Dominance & submission / Sadism & Masochism) and its philosophy of how to play safely with consent. Come alone or better, with your partner to enhance your bedroom play or learn to take your relationship to the next level with this power exchange dynamics.
Join the upcoming workshop here.
---
INTRO TO FEMALE DOMINATION: Are you the Dominant or Submissive one?
Timing 1: 24/3/2023 (Friday), 7 - 9pm
Timing 2: 25/3/2023 (Saturday), 2 - 4pm
Location: Showroom @ 994 Bendemeer Road
Tickets: $69, for individual , $124 for couple (10% off, save $14)

This session is open to all genders
This workshop is proudly brought to you by We Vibe. All participants will receive a $30 Horny.sg voucher redeemable on the day of the event.

---
ABOUT THE CONTRIBUTOR
Caittrin Lee is an International Dominatrix living the FemDom lifestyle. She adores authentic connection
built on consensual power exchange and mindfulness servitude. She is a BDSM educator and co-leads a
non-profit kink group within Singapore's community. Also, a certified Neuro-Linguistic Programming Coach & Hypnosis practitioner accredited by The American Board of NLP-Hypnotherapy. BDSM Mistress Caittrin Lee has been featured in Fetish Matters Interview, Talking Matriarchy, Shades of Love Panel Talk about Sex Workers for Freedom Film Fest Singapore, Bondage performance with other Asian Mistresses during the annual London Femdom Ball and more. She is the first Domme to represent Singapore during the inaugural Femdom Gala in Athens.
Site:caittrinuniverse.com
Twitter:dominacaittrin